When Find It does not give you Full Text
If you need to find the full text of an article, the Find It button will usually help you find it in the library's online or print collections. However, the system does not always work perfectly. If the Find It button does not link to the article you need, here are some troubleshooting suggestions.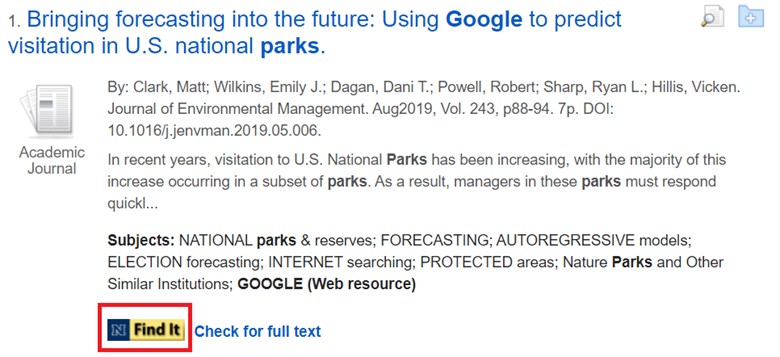 Check to see whether the article has been posted online via Google Scholar.
Search for the article title—within quotation marks—in Library Search. This may give you a different link than the one you tried.
Go to the Journals page on the library homepage, and search for the journal title. The Journals list includes holdings for both print and online journals that are available to University of Nevada, Reno users. If the library has the issue you need, browse to the volume and issue number online or find the print issue in the library.
If the library does not hold the article online or in print, order it from Interlibrary Loan. Do not pay for articles!
If a link to access a full-text article doesn't work, report it through the Libraries' Report a Problem form.
Use library chat or email to get further assistance.