During your research, you may come across articles online that require you to pay to read them, especially if you are searching outside of a database or Library Search. The University Libraries can provide the article for you without charge, either by finding the full-text article elsewhere online, in print, or by requesting it from another library using Interlibrary Loan. You should never have to pay to access an article.
When you encounter a paywall for an article you need, follow these steps:
Search Library Search by typing the beginning of the article title along with the last name of the author (the first author if there are more than one) into the search box. Make sure you are signed in with your NetID, as some results do not appear otherwise.

For example, for the article citation below, you might search: ancient figs gibbons.

Gibbons, Ann. "Ancient Figs Push Back Origin of Plant Cultivation." Science, vol. 312, no. 5778, 2006, pp. 1292-1292.
If the article does not appear in Library Search, click the banner at the top of the search results that says "add results beyond the University Libraries." This will bring up a list of articles that other academic institutions can loan to you for no charge. If you see your desired article in the list, click "Get it for me from other libraries" and choose how you would like your materials delivered.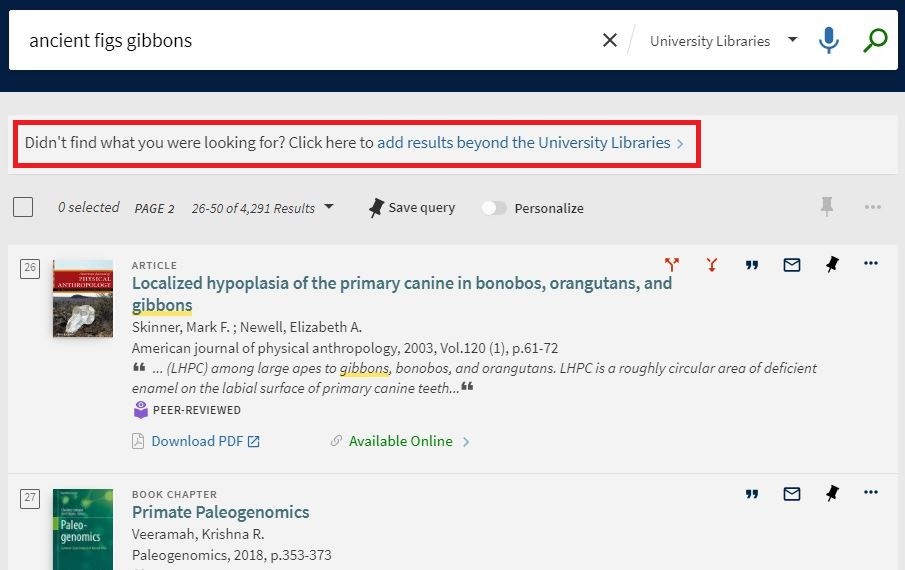 Screenshot of a list of search results for "ancient figs gibbons." Above the search results, a red box encloses a banner that reads "Didn't find what you were looking for? Click here to add results beyond the University Libraries."

Screenshot of part of an individual record for an item in Library Search. There is a red box around the subheading "Get it from other locations."
If your article did not appear in the expanded library search, ask a librarian for help finding your article, through chat or email.
If you still cannot find an article, submit an Interlibrary Loan request. It takes about two to three business days to receive an article online through your ILLiad account.
View our guides to searching for a specific article or a specific book or eBook for more help with your search.