Checking out materials
To check out library materials, bring the item(s) to the Circulation Desk in the Knowledge Center (on the second floor), or to the front desk in DeLaMare (in the basement), or the Basque Library (third floor of the Knowledge Center), or use available self-checkout stations. You will need your University of Nevada, Reno WolfCard or photo ID to check out items. For more details on loan periods and other policies, visit the Borrowing and Requesting Materials page.
If you are not a current University student, faculty or staff member, you may use a Community Borrower Card to check out library materials.
Renewing materials
You can view your library account online to renew your loans or pay fines by logging into My Account with your NetID. Once signed in, you can view your current loans, any pending or processed requests, and fines and fees. Clicking on the "Loans" tab will show you all of your current loans, when they are due and if they are eligible for renewal. Simply click "Renew" to renew a particular item or click "Renew all" at the top to renew all eligible loans.
You can access your account anytime while in Library Search by clicking on your name in the top right corner, then selecting "Library Card".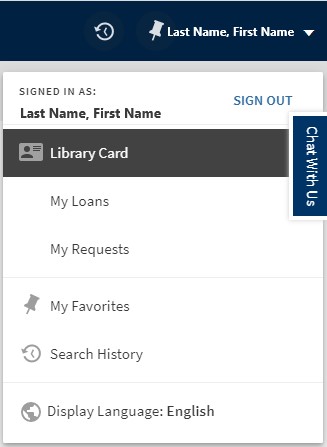 Community borrowers can log in to their account using the barcode on their Community Borrower Card, but will need to contact the Circulation desk to get a temporary password to login.
For further assistance with your library account, call the Circulation desk at (775) 682-5625 or email circ@unr.edu