Searching for music scores
The University of Nevada, Reno Libraries have access to thousands of print and electronic music scores.
Searching for specific titles
---
If you are looking for a piece that has a unique title like Verdi's Il Trovatore, for example, use the Advanced Search.
When searching, follow these steps:
Search for the composer in Library Search.
Find the Advanced Search near the search bar and open the advanced search options.
Choose Author/Creator from the Search Filters drop-down list next to the composer's name in the search box (e.g., Verdi).
Choose Title from the next Any Fields drop-down list and place the title of the piece in the search box (e.g., Il Trovatore). Click Search.
When looking at your Library Search results, you will see many different formats listed under Resource Type. If you do not see Scores click on Show More.
Select Scores and click Apply Filters. The search results should now show only the format you selected.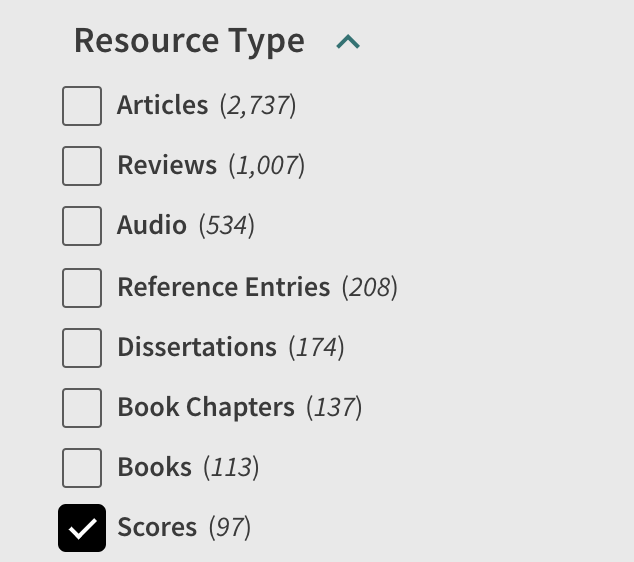 Screenshot of the "Resource Type" filter box in Library Search. The content type "Scores" has a black checkmark next to it to indicate it is selected.
Searching for generic titles
---
If you are searching for a piece that has a generic title (i.e., the name is based on a musical form) and may include an opus (or other identifying number) like Chopin's Prelude Op. 28, no. 10, it is sometimes more effective to use the simple Library Search.
Instead of inserting "Chopin Prelude op. 28, no. 10" in the search box, include the composer's name and pluralized form name with the opus number (e.g., Chopin preludes op. 28). Then, limit to Scores.
Visit the Music Research Guide for more information on music resources.