Searching for a Specific Book
---
The University Libraries have access to over a million print books and a constantly increasing number of ebooks. The most comprehensive way to find both formats is by entering the title of the book in quotes into OneSearch on the library homepage. You can narrow your search to find only Book/eBook on the left drop-down menu on the OneSearch screen.

If you want to find an ebook, you can then narrow your search to Full Text Online from the next screen.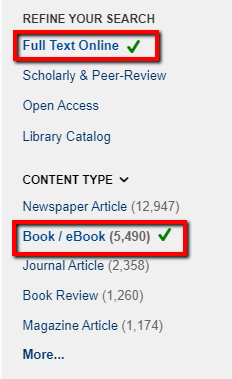 For ebooks, you will need to enter your NetID and password to view and download the book.
If you still can't find the book you need, request it through ILLiad to borrow it from another library.