Searching for Books on Your Topic
Use the OneSearch box on the library homepage and enter a keyword that describes your topic. It is best to keep your search simple to find a book that is relevant.
Examples: affirmative action, climate change, human trafficking, college athletes, censorship, etc.
When you get a list of search results, choose Book/eBook from the Content Type filter (which will be either on the left side of your screen or a menu under the filter icon, depending on the size of your screen). This will filter your results to show both print books and ebooks that you can access online.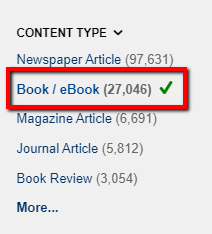 For all books in OneSearch, you can see more details about the book under the title. Click on the Preview link under the title to get more descriptive information about the book and, when available, tables of contents, summaries, or book reviews.
Ebooks
---
To access an ebook, click on Full Text Online. Enter your NetID and password to access the ebook if you are prompted to do so. You will then be able to either read the ebook online or download it. You may need to create a free account or download specific software to be able to download it.
Print Books
---
For print books, you will always see the location, call number, and status (i.e., available or checked out) under the title. Clicking on the title will take you to the library catalog record.

For more information on books in the library, see Finding Books.