Searching for Magazine and Newspaper Articles
Searching in OneSearch
---
Use OneSearch (the library's search engine) to search for your topic. Filter your results by Content Type (see left side of screen). You may have to click on More … to see all of the content types. Click on Newspaper Article or Magazine Article or, select both. You must click on Apply (near the top of the page) to "apply" the filter(s) you have selected.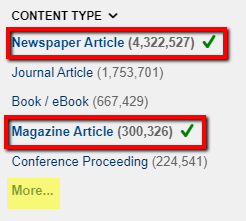 After you narrow your results to only Newspaper Articles and/or Magazine Articles, your results will look different.
Other Sources for Newspaper Articles
---
Sources for newspaper articles can also be found in many of the University of Nevada, Reno library databases. Click on the Databases tab on the library homepage. Select the All Database Types drop-down menu. Select News in the drop-down menu. The resulting list consists of databases containing only newspaper articles or some newspaper articles along with other sources.
If you need to find a specific newspaper, visit I am looking for a specific journal.
The University Libraries also have a helpful research guide, News Sources, which will help you find local, national, international, and historical news sources.