Searching for books on your topic
To search for books on your topic, use Library Search on the library homepage and enter a keyword that describes your topic. It is best to keep your search simple to find a book that is relevant.
Examples: affirmative action, climate change, human trafficking, college athletes, censorship, etc.
When you get a list of search results, choose Books from the Resource Type filter. You can see the filters on the left side of your screen or click on the filter icon. Select Show More if you don't see Books listed. This will filter your results to show both print books and ebooks.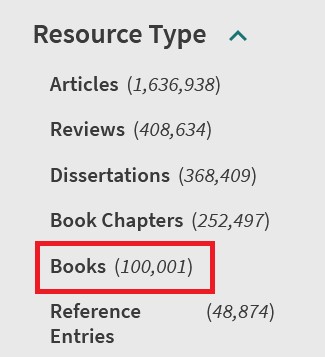 Click on the book's title and scroll down to see more information about it, including a description, table of contents, book reviews, and author information, if available.
Ebooks
To narrow to ebooks only, select the filter for Available Online. To access the ebook, click on Available Online under the title or click a link under Full Text Availability. Enter your NetID and password when prompted. You will be able to either read the ebook online or download it. You may need to create a free account or download specific software to be able to download it.

Screenshot of part of an ebook record in Library Search that shows a link under Full Text Availability in the Online Access portion of the record.
Print books
---
For print books, you will always see the location, call number/MARS, and status (i.e., available or not available) under the title.
Find the item on the shelf by looking at the location and call number. The location (e.g., Knowledge Center Book Stacks) tells you in which library the book is located. The call number (e.g., LB1592 .G75 1998) is the exact location of the book in the library. If a book is listed as being in MARS, select Request and pick it up at the Circulation Desk on the main floor of the Mathewson-IGT Knowledge Center.

Printed floor maps of call number locations in the Knowledge Center are available at the Research Desk on the second floor. Large-size floor maps are posted throughout the building.
Browsing for books on your topic
You can browse for books either on the shelves or online.
Since library books are shelved by subject, it is best to use Library Search to find one or more books on your topic, and then browse the shelves around that book to find more pertinent books.
You can also browse for books in Library Search. Once you find a book of interest to you, you can browse virtually by:
Scrolling through the related books listed under Virtual Browse.
Clicking on a Subject listed in the book's description and running a new search with that subject.
Requesting books
If a book you need is checked out, you can request to be the next person to use it. The book will be recalled from the previous user, who will be given two weeks to return it.
To request a book that is checked out, log in to Library Search with your NetID and password if you have not already done so. Under the Request options, choose Request and enter your pickup location. You will receive an email when the book is ready to be checked out.
You can also request another copy of a book that is checked out by selecting Request from Interlibrary Loan. In addition, you can go directly to Interlibrary Loan to request a copy of a print book that is not owned by the library. For more detailed information see Requesting Books and Articles Through Interlibrary Loan.