Searching for Videos
The University of Nevada, Reno Libraries provide access to tens of thousands of videos in streaming or DVD formats. You can search for videos by using Library Search on the library homepage. Enter the topic or title of the video and search.
Narrow your search by choosing a specific Resource Type on the left side of the screen under Refine my results. Select "Videos". (You maybe need to click on "Show More" to have Library Search display all the options under Resource Type.)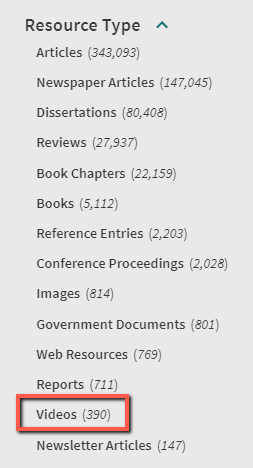 Doing so will bring up both streaming videos and physical media, like DVDs. The bulk of the Libraries' DVDs are located in MARS (Mathewson Automated Retrieval System). Use the same steps when retrieving a DVD from MARS, as you would books.
Streaming Videos
To limit your results just to streaming videos, be sure to also select "Available online" under the Availability filter.
Alternatively, you can search for streaming videos simply by selecting "Streaming Video" from the "Everything" drop-down menu just to the right of the main search box. Click on the "Available Online" link under a video to access it.

Visit the Streaming Video Guide for more information about specific streaming video databases that are available through the University Libraries.